Paper Product Making Machinery Fourdrinier Culture Writing Printing Roll A4 Paper Production Machine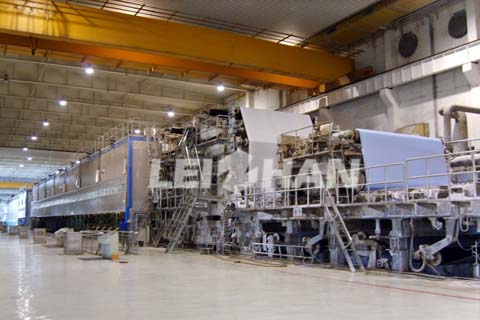 Our company is a professional paper machinery manufacturer in China.We provide complete production line for making culture paper.The culture paper ,also named writing printing paper,is widely used as newspaper ,copy paper,notebook paper,printing paper,writing paper etc.Before you buy the paper machinery ,please answer those questions below:
Whats is your raw material for making paper? Waste paper ,wood pulp, wood ,bamboo ,bagasse, banana trees etc.Usually waste paper as raw material could be the better choice for small and medium scale factory.Other natural plant as raw material needs chemical pulper system and is the better choice for large scale fatory.
How many tons of paper do you want to produce in one day(24 hours)? 2~3 tons/day, 4~5tons/day or even more.
What is the net paper width ?1092mm,1575mm,1880mm,etc.
Complete production line for making jumbo copy paper roll includes boiler ,paper pulper system ,copy paper rolls making machine and related environmental equipment.
Paper machine is to meet the paper making requirements of the pulp water suspension by the filter dehydration forming, mechanical extrusion dehydration and drying process then making into paper. The use of raw materials are: bleached wood pulp, bleached straw pulp, bleached straw pulp board, bleached wood pulp board, used books, waste paper edge. It can produce cultural paper, writing paper, A4 paper, fruit packaging paper and so on. The machine with reliable quality, stable performance, easy operation, energy saving and environmental protection, paper making machine is the ideal product in machinery field.
If you need whole culture paper making line, you can send us email to get paper making line details and price. Our company can offer you whole paper pulp making line and paepr making machine. And you also can leave message on our website, our business manager will reply you as soon as possible.
Email:  leizhanworld@gmail.com