A4 Paper Recycling Machine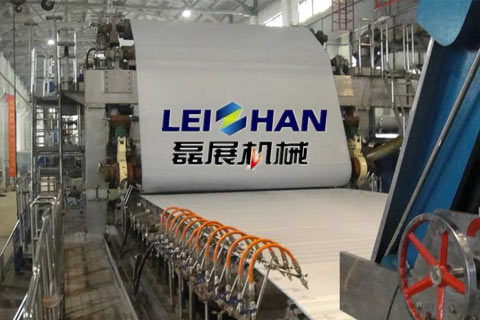 Data of A4 Paper Recycling Machine
Paper grade : A4 A3 paper, Writting paper , News paper, Copy paper, Printing paper
Basis weight : 40 – 80 g/㎡
Trimmed width : 1880- 3750 mm
Operating speed : 200 – 1200
Produce capacity : 20- 270
Drive way : AC variable frequency, section drive
Raw material : wood pulp
Structural layout : Monolayer
The A4 Paper Recycling Machine has the advantages of simple process, small floor space, low investment and high return rate. The whole set of equipment will not produce waste water during the production process, and the discharged chemical water can be reused without any external discharge.
Main Equipment of A4 Paper Recycling Machine
Headbox section—Fourdrinier forming section—Press section—Dryer section—Sizing section—Dryer group section—Calander—Reeling machine—Rewinder
If you just need paper machine spare parts, we also can offer you.
During the past thirty years production and sales, we have owned one excellent R&D department,
as well as the good pre-sale service, after-sale technical support and strictly quality control system.
Our pulp and paper machine has been sold in the most of the China, as well as the foreign country,
such as, Vietnam, Mongolia, West Africa, South Africa, Brazil, Uzbekistan, etc.
Our engineer can design different machine size under your requirements, so if you need paper making machine or have any question , you can leave message on this website or send us email anytime .
Email: leizhanworld@gmail.com