Automatic Waste Paper Recycling Machine Corrugated Paper Making Machine Price
Automatic waste paper recycling machine corrugated paper making machine price
Main technical data of corrugated paper making machine:
Main product:  high-strength corrugated paper, kraft paper
Raw material:   OCC
Basic weight: 90-180g/m2
Width of paper: 400mm
Width of rolling paper: 3450mm
Working speed: 350m/min
Designed speed: 400m/min
Dynamic balance: 500m/min
Production capacity: 150t/d (350m/minx90g/m2x3.4mx24hx0.06/1000)
Lip width of headbox: 3700mm
Width of wire: 3850mm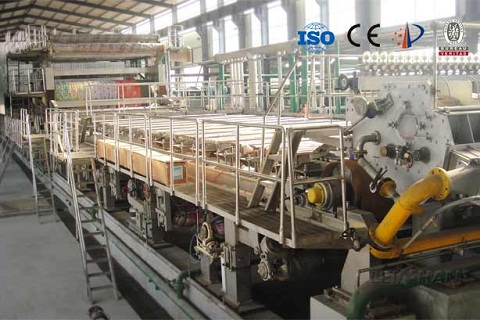 Corrugated paper making process:
Air cushion type headbox–double fourdrinier wire–first stage vacuum suction transfer roll–fist stage k type combined press–first stage double felts φ1350 big roll press–one φ1500 leading paper dryer cylinder–3 φ1500UNO dryer cylinders and 23 φ1800 dryer cylinders(1+3/3 adopts single hanging type +10+10 )– sizing machine– 10 φ1800 dryer cylinders — calender — B/M — pneumatic reeling machine .
Main structure of corrugated paper making machine:
This corrugated  machine consists of headbox, fourdrinier wire forming, press section, drying section, gas 
hood section, sizing machine, calender, mechanical drive section, compressed air system,
lubrication system, hydraulic pressure system, basic section, reeling machine. Paper machine
scheme drawing shows the main arrangement.
Our paper machine adopts most advanced technicas and is equipped with best quality accessories , so paper produced by our machine has high folding endurance,  is well-selling and profitable.
If you are interested in our paper machine, you can leave message on this webpage or send email to us, our business manager will send you email about more details of machine.
Our company offer the whole paper making line for paper mill, include paper pulp making line, paper making machine and paper machine spare parts.
Email: leizhanworld@gmail.com